(photo courtesy of homehub.homeloans.au)
1. Paint
It stands the test of time, a fresh coat of paint can change the look and feel of your home. So long as you stay within a range of inoffensive colors (I would steer away from chartreuse or fuchsia here) you basically can't go wrong. Choose something with a mid range sheen, like an eggshell finish, so it reflects the light but doesn't show every fingerprint from your little ones running around, like a flat or matte paint would.
2. Landscape
It's true that you can spend quite a lot upgrading your landscaping. That said, you don't have to. In this time of quarantine, some fresh beauty bark, a new tree, and some flowers will go a long way to beautify your yard and give back to the planet. Even a little container garden can spruce up your outdoor space. Choose options that look great but are easy to maintain, like hostas or Japanese maples.
Focus on the front yard first, as curb appeal is your house's first impression to potential buyers. Home improvement stores are still open and some will even deliver. You can even support a local business, like Swansons Nursery, who are offering in-store appointments to help you social distance while also updating your outdoor space. Better yet, a little yard work will double as exercise, and I know we could all use a little more of that, being cooped up in our houses all day
3. Declutter

This option is as easy as free! Like Coco Chanel famously said, when accessorizing, take the last thing you put on off. This goes for your house as well. Knick-knacks, toys, and family photos may make a house a home, but potential home buyers want to see the HOUSE. Distracting items that fill walls and shelves can make your space look much smaller than it is.

Start by cleaning out closets and pantries, packing up or donating (or making donation piles for now, since Goodwill and the like are closed during quarantine) extraneous items that fill your home. I know this can be a hard task, but maybe take a page from Marie Kondo's book and ask yourself whether each item brings you joy. It's ok to have things that are valuable only to you, but when selling a home, less is more. You can even declutter your garage. We're looking at you, Rob. 😉
4.

Visually create more space — rearrange furniture
You may have noticed that staging furniture is often small and, frankly, not terribly practical. But it does its job in showcasing a room and what it can be. It shows off the space while also making it look lived in. This trick can be achieved by simply moving your existing furniture around. Perhaps you favor a cozy seating area nestled around the fireplace for everyday living.
I bet the room would look bigger if you removed a chair or two and pushed the sofa back though. Small changes to how a room is arranged can make a huge difference. While you're at it, take out the extra furniture that isn't needed–side tables, kids toys, benches, etc. For everyday living we often think practically, but when creating more space in your home, logically: less is more.

5. Upgrades your bathroom
This one may cost a little more, but home buyers are ALWAYS looking for updated bathrooms and kitchens. A coat of paint on the walls or cabinets will go far. Updating the mirror and hardware can do wonders as well. If you've got it in your budget to get a new vanity, I say: go for it. You can find an all-in-one piece at your local home improvement store that includes a countertop, faucet, and cabinet, like this one I recently bought for my home. You'll achieve savings and beauty all in one!
6. Upgrade your kitchen for under $5000
This one might cost the most, but it will also give you the biggest bang for your buck. New home buyers, especially first-time buyers, are almost always looking for an updated or upgraded kitchen. While a full, luxury remodel may not give you immediate return, there are still things you can do to spruce up your space and make it look new again.
New cabinet hardware goes a long way, as well as new paint on the walls or even cabinets. A floating snap together vinyl plank flooring will update your space in no time and is something you can do while stuck at home in no time. You can also update lighting and even add a backsplash. These projects can all be done with minimal tools and a few youtube videos.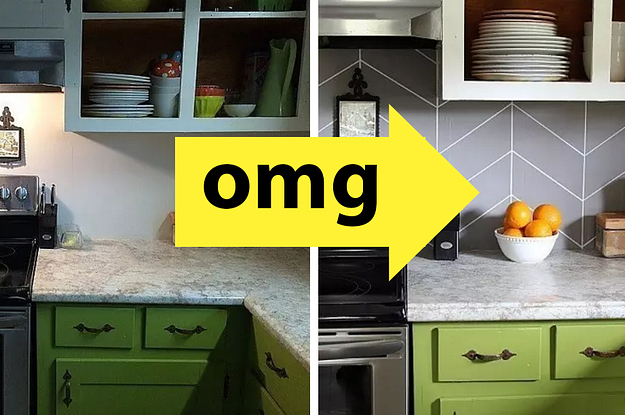 In fact, we at Bushwick would love to see what projects, large or small, you've been working on in your home. Drop a picture or a question below, we want to see what you're up to! Whether its installing a closet organizer or doing a full-blown kitchen upgrade, we're interested and invested in the value of your homes. If you'd like a consultation, we can meet virtually and guide you on what would be most effective for your home.