(photo courtesy of US News)
There is a balance between best resale value and best improvements for you to enjoy your home to the fullest right now. While a luxe master suite upgrade might not get you the highest immediate ROI, if you plan to live in your home for 5-10 years anyway, go for it! Our homes are often our largest and most personal investments. And while I'd encourage you to steer clear from leopard print carpeting and grass wallpaper, if you've always dreamed of a over-the-top espresso bar in your family room, more power to you. Just understand that this type of investment won't appeal to everyone, so you shouldn't expect a great return on it. If you love it though, sometimes that's all that matters.
When updating your home for resale, timeless fixtures and mid range prices are key. The more personalized the upgrade, the less it will appeal from buyer-to-buyer. Stick with the classics with a sprinkling of items you especially love, and you will almost never go wrong.
Here are 5 items you can upgrade within your home to give you the biggest bang for your buck. Some might surprise you, while some have been tried and tested over time, as reported on The Street last year.
1. Upgrade your Garage Door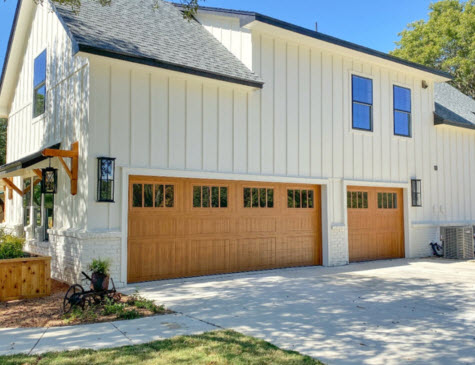 "Remodeling" Magazine finds that upgrading your garage door can return nearly 97% of your investment. Now is the time to get a more modern, remote driven door to spruce up your garage and, often, the front of your house.
2. Energy Efficiency
Another potentially surprising upgrade is to the guts of your home. As people become more wary of climate change, they're looking for ways to do their part. By updating the HVAC, water heater, and appliances in your home to more energy efficient options, you're not only helping the environment, you're helping you (and your future buyer's) wallet. Who can say no to that?
3. Curb Appeal
You never get a second first impression when meeting someone, and the same goes for your house! Introduce your house to potential buyers with a facelift, including fresh beauty bark, flowers, a new front door, and perhaps even new siding or a coat of paint. You can expect to see about a 75% ROI for such upgrades, so its money well spent. Again, choosing options that appeal to the most buyers is key. A white house with black trim is a classic option. Everyone loves the pop of a red front door, and beauty bark with bright spring flowers or easy-to-care for hostas will never treat you wrong.
4. Bathroom upgrade
As I said in my last post, everyone loves a nicely updated bathroom and kitchen. This is where it can get tricky though, as most of us have personalization ideas with flooring, hardware, and tile patterns that might not appeal to everyone. If you keep your upgrades to a mid-range price range and relatively neutral palate, you're sure to please. Stick with subway tile, marble or quartz countertops and light, bright finishes, and you can't go wrong. Let your future buyer personalize with snazzy towels and rugs, leave the pops of color to them.
5. Kitchen upgrade
(photo courtesy of Wayfair)
Everyone loves a great kitchen upgrade. Again, if you leave it midrange and mild palate, you're sure to please the most buyers. Updating appliances to energy efficient options, reface cabinets with shaker doors and adding whisper close drawers appeals to many, many buyers. You can expect to see as much as an 80% return for minor kitchen upgrades. As we've said, the more personalized you go, the less you can expect to see back in your pocket.